Principal
---
Dr. A. RAVEENDRA, Principal, Malla Reddy Engineering College (Autonomous) obtained his PhD from JNTUH, Hyderabad in Mechanical Engineering. He has 17+ years of experience in teaching and research. He served as Head of the department and Controller of examinations in Malla Reddy engineering college. He has a vast research experience in production Engineering. He has guided over 200 B.Tech students, 50 M.Tech students. He has also filed for and published two patents. He has published in more than 40 refereed international journals and presented several papers in both national and international conferences. He has given around 20 guest lecturers/seminars, and organized around 30 workshops/conferences/guest lecturers/FDP. He has also acted as a resource person for several workshops organised by the other colleges. He is a life member of many societies like IWS, ISTE, IAENG.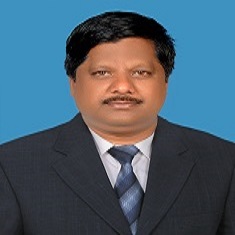 Dr.A.RAVEENDRA
Principal
Principal's Message:
From the Principal's Desk…
Education plays a key role in the overall development of the society. The role of education is definitely not limited to giving and grasping knowledge and theory. In fact, the true goal of education transcends much beyond just awarding degree and certificate to the students. As Mahatma Gandhi said, "Education is the realization of the best in man - body, soul and spirit". The ultimate goal of education is the discovery of the meaning of life and the fulfillment of life for all mankind as well as for oneself. The quest of education is knowledge, humanity, culture, wisdom and sharpness but it should be noted that knowledge is not given but earned and character is not granted but cultivated.

MREC (A) not only focuses on the theoretical curriculum, but also helps in the development of practical knowledge, extra-curricular activities and over all development and perspective. The characteristics that make a good institution are a highly trained faculty, relevant courses of study, state-of the-art facilities, well-equipped library, effective placement division, innovative teaching and learning methods. The MREC (A) boasts of all these and many more. Technical educations should train the student communities in applying their knowledge and innovation to constructive development of the society.

I firmly believe that our institute is more than just a place to learn. It gives you a chance to grow by equipping with everything you need to achieve excellence. At MREC (A) we ensure students to get the best start to their future career so that they could become smart and responsible citizens of our glorious country.

I wish all the students a grand success in their career and prosperity in their future life.